The NAAIM Indicator Wall: Fundamentals Are Improving
By: National Association of Active Investment Managers
Updated: 12.16.18
The NAAIM Indicator Wall provides a weekly update to a robust array of stock market indicators. The "wall" includes readings and explanations of indicators and/or models in the areas of price/trend, momentum, key price levels, overbought/sold readings, sentiment, monetary, economic, inflation, and market cycles.
This week, we're featuring the External Factors Indicator Board, which is a group of indicators that are believed to drive stock prices on a long-term basis.
There are some modest shifts within the External Factors board of late. First, the monetary composite continues to improve as one can argue that there has been yet another false start to the big, bad, bond bear. Second, while both the economic and earnings models remain positive, the model readings have been slipping of late. And finally, although the valuation composite still sports a sell signal and a negative rating, valuation metrics are improving.
Note: The Indicator Wall is a benefit provided to NAAIM Members and is password protected. To obtain a temporary password, contact NAAIM at 888-261-0787.
The Magic Words
By: David Moenning, Heritage Capital Research
Published: 1.7.19
On Friday, Fed Chairman Jay Powell said the magic words addressing the market's two big fears. First, he said, "With the muted inflation readings that we've seen coming in, we will be patient as we watch to see how the economy evolves."
This is big. In Fedspeak, these words meant that the Fed's projected rate hikes aren't preset and that based on the "data," the next hike was likely on hold. This fits with the "soft" U.S. economic data that has been coming in of late as well as market expectations for rate hikes.
On that note, below is a chart showing the probability of the Fed NOT hiking rates in 2019.
However, from my seat, the idea of the Fed pulling back on the two projected rate hikes wasn't the main course here. No, it was the 4-7 "accidental" hikes associated with the balance sheet reduction plan (aka the $50 billion per month "QT") that worried me more.
So next, and in my opinion, more importantly, Powell said, "We wouldn't hesitate" to change balance sheet policy if needed.
There it was; the official proclamation that the Fed wasn't going to do something stupid and "accidentally" push the economy into recession. Phew!
My Oh My. That Was Quick
By: Paul Schatz, Heritage Capital LLC
Published: 1.7.19
In my last blog post, Apple had pre-announced less than expected earnings news and stocks were looking sharply lower on Thursday morning. Besides commenting that it was probably a day to just sit back and watch, I also offered that historically, news like this from Apple usually comes near stock market lows. Thursday had an unusually dour feel to it. It seemed like the parade of pundits were all talking about an immediate retest of the Christmas week lows and that investors should be out buying bottled water and canned goods. My Twitter feed was full of Treasury bond bulls taking victory laps and calls for a much worse bear trend.
VOILA! Thursday ended up being a sweet bear trap.
The past two weeks have been good steps, but there will be other tests, likely at higher prices for the bulls to pass. I want to see…
Investment Managers: An Important Distribution Opportunity For Your Investing Strategy
NAAIM 2019 Shark Tank Investing Strategy Competition
Sign Up To Compete Today!
(The Deadline for Applications is January 18, 2019)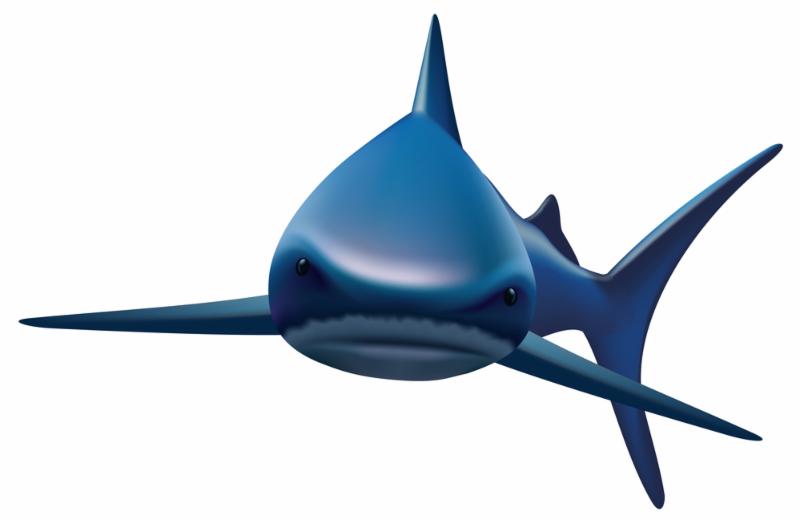 Launched in 2013, the NAAIM Shark Tank Investing Strategy Competition provides exceptional exposure for investment managers. Here's what a past winner had to say about the NAAIM Shark Tank:
"I entered the Shark Tank for the 2015 competition. I had sold my prior company years earlier but had a non-compete until 2014 when I sold my remaining shares and decided to take my 12-year EVO trading system and track record to the Shark Tank challenge. After placing third, my assets began to grow substantially, even before winning the competition last year. Today our assets primarily through licensing, using just the strategy, have grown to $370 million. I have to credit my participation in the Shark Tank for the exposure in getting to this level."
Rich Paul – 1st place winner – 2017
President, Potomac Advisors
2019 NAAIM Shark Tank Prize Package
Live Distribution and Promotion on Global View TAMP
Participation in Hedge Connection Table Talks in NYC
Five Pitch Meetings with Member Firms
$5,000 Cash Prize
Learn More About the NAAIM Shark Tank Investing Strategy Competition
Application Deadline: January 18, 2019 – Apply Today!
Dash of Insight: Positions for 2019 – Focus on Earnings, The Economy, and Financials
By: Jeffrey Miller Dash of Insight
Published: 1.4.19

Q: What do you expect to be the key driver of stock market performance in 2019?
The most important factor will be continued earnings growth in the context of a reasonable economy. This year saw stocks lower despite excellent earnings increases. The skeptical market reacted by punishing companies with any flaw in their reports and virtually ignoring those that did well. The result was a compression of PE multiples – a classic sign of negative sentiment.
Q: As we approach 2019, are you bullish or bearish on U.S. stocks?
I am bullish on some and bearish on others. It depends on the stock and sector. Sectors that were out of favor last year should do very well. Those that rose because investors were blindly reaching for yield or perceived safety may not keep up. This table from MarketWatch illustrates the difference. It is like the old Dogs of the Dow theory on steroids.
Investors who emphasized what worked last year will miss a nice opportunity.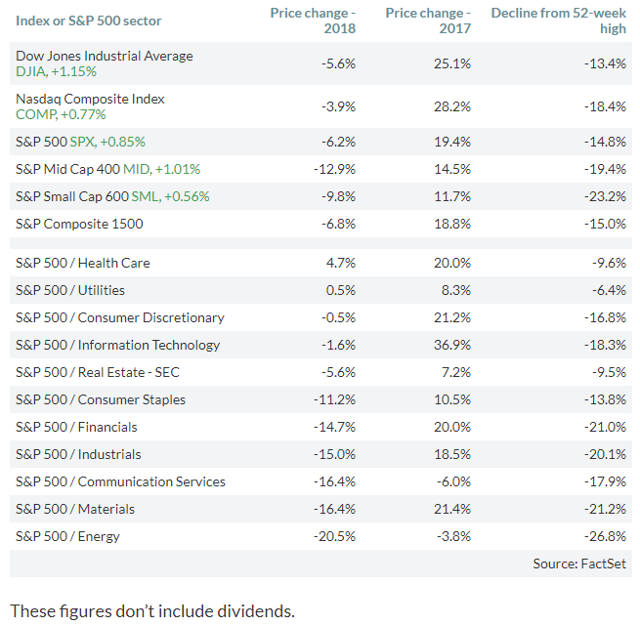 Here's Jeff's Current "Dash of Insight" Blog Post
Introducing: The NAAIM Dynamic Allocation Model
Designed to be a value-add benefit to membership, NAAIM offers a Dynamic Asset Allocation Model based on the NAAIM Indicator Wall of indicators and models. The overall objective of the model portfolio is to dynamically adapt to changing market environments and to keep equity exposure in line with current conditions. The model targets a normalized allocation of 60% stocks and 40% Bonds.
Here is this week's model allocation:
The model has been run live on the NAAIM website for several years and has demonstrated the ability to reduce exposure to market risk during negative environments such as those seen in 2015-16 and 2018.
COMING SOON: The model is currently shown within the NAAIM Indicator Wall but will soon be an option in the "Programs" Tab of the NAAIM.org website.
The NAAIM Dynamic Allocation Model is for illustrative and informational purposes only, and does not in any way represent an endorsement by NAAIM or an investment recommendation.
RGB Perspectives: A Tradable Rally
By: Rob Bernstein, RGB Capital Group
Published: 1.7.19
Stocks have recovered some of the declines from the fourth quarter but remain well below the 2018 peaks. The S&P 500 Composite Index has climbed an impressive 8.5% over the last eight trading days but still needs to climb another 15%
to reach its September high. The index is quickly approaching the early 2018 lows (R1) which will likely act as an area of resistance for the market. A meaningful penetration of R1 will likely encourage more buyers to enter the market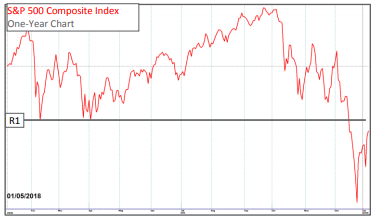 BAM Market Note: A Double Dose of Good News
By: Sam and Bo Bills Bills Asset Management
Published: 1.4.19
The markets got a double dose of good news this morning. First, the monthly employment report far exceeded consensus estimates and surprised many. The consensus estimate was 180,000 new jobs but the report actually came in showing 312,000. Traders took the number as a sign that weakness in the economy has been overstated and, perhaps, things aren't as bad as they thought. Second, Fed Chairman Powell indicated in a prepared speech delivered to an economics conference that the Fed would continue to be "patient" in raising rates.
Our Point
The takeaway from many was that the Fed is becoming a little more dovish in its interest rate policy and that future rate hikes, if any, would be measured. The market has exploded to the upside on the double dose of good news (strong economy and an interest rate policy that won't get in the way). There is no doubt that much of today's gains are due to short-covering rather than buyers flocking into the market but the result is nonetheless impressive. We'll see if the gains hold into the final closing hours of the market.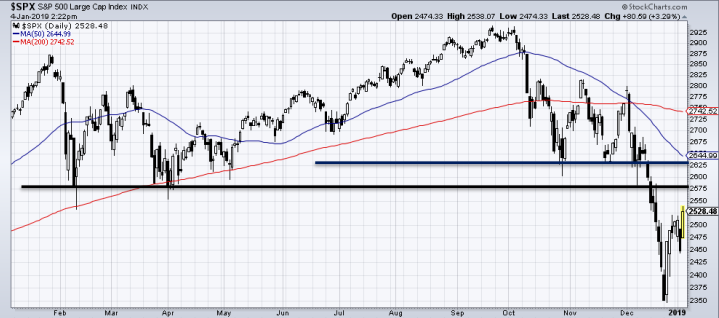 Weekly Update: The NAAIM Member Exposure Index
The NAAIM Exposure Index represents the average exposure to US Equity markets reported by our members.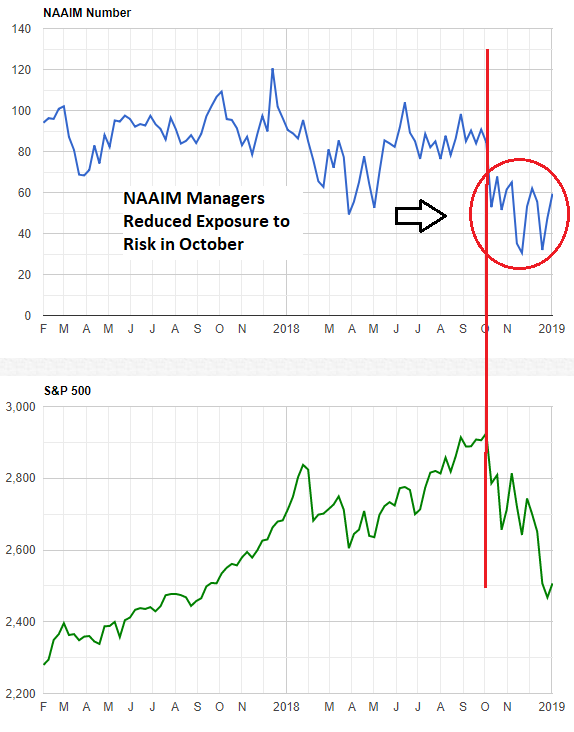 More on the NAAIM Exposure Index
Weekly Update: The Emotomy Exposure Index
Published by: Emotomy.com
The Emotomy Exposure Index represents the average daily exposure to equity markets in the investment accounts of Emotomy's clients. This Index provides insight into the actual adjustments investment advisers have made to client accounts over time.
Current Emotomy Exposure Index Reading: 66.7
Current Direction: Up