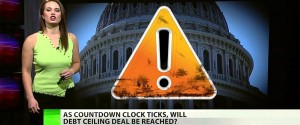 I thought that we still had two and a half weeks until Halloween. You'd never know it from the frightening tales from Washington, D.C. Just as the government shutdown was to have been a near world-ending event, the impending debt ceiling should be named Armageddon II.
You'll recall all of the gloom and doom being broadcast before the shutdown went into effect on October 1. At the time, I wrote that the effect of this 18th shutdown in the last 30 years was not going to be devastating – that most of the government functions would just continue. Now the reports are coming out that 83% of the government is still operating.
What was closed down? All the visible parts of government – even though past shutdowns have not closed our national monuments in D.C., this time they did. Why? "It's a cheap way to deal with the situation," an angry Park Service ranger in Washington says of the harassment. "We've been told to make life as difficult for people as we can. It's disgusting."
I bring this up not to comment on the politics of the shutdown but rather with respect to so many financial columnists' oft-repeated remark that the markets are being held hostage by the travails in Washington.
As the charts below make clear, when fear increases…
All the best,
Jerry

About Jerry Wagner
CEO for Flexible Plan Investments, Ltd. (FPI), Jerry Wagner is a leader in the active investment management industry. Since 1981, Flexible Plan Investments has focused on preserving and growing capital through a robust active investment approach combined with risk management. Headquartered in Michigan, FPI offers a wide array of strategies and services that help financial advisors build their business and retain clients. More importantly, FPI helps hundreds of clients achieve their long-term financial goals.