2023 Active Investing Strategy Winner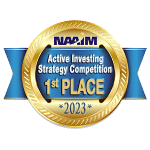 35-year-old Tactical Investment Strategy Captures Top Honors in the NAAIM Active Investing Strategy Competition
Long-time investment professional Jerry Jacobs, founder and president of Atlas Capital Management Corp. in Fort Wayne, Indiana, won first place for his Classic Strategy in the National Association of Active Investment Managers (NAAIM) 2023 Active Investing Strategy Competition. The competition was held in conjunction with the NAAIM Uncommon Knowledge conference in Scottsdale, Arizona, May 7-10.
Atlas Capital's Classic strategy holds the record of the longest continuously implemented tactical investment strategy to compete in NAAIM's Active Investing Strategy Competition. Launched by Jacobs in 1988, the Classic strategy has been used to actively manage client assets for 35 years.
Jacobs credits the longevity of the Classic strategy to a quant-based decision-making process that is simple to explain to clients and investment advisers. The system rules are in ink, not pencil, he stresses, explaining "I don't trust a system that is continually being tweaked."
The worst experience for any money manager is losing money for their clients, particularly in a major market decline. The Classic strategy is designed to answer two questions, according to Jacobs. "First question: Do we want to be invested in equities at this time? If yes, the second question is 'Where is the best opportunity?' Which investment style or styles appear to have the greatest opportunity for appreciation in the current market environment? If the answer to the first question is no, we wait in cash for the next opportunity," he explained.
"The stock market tends to rise the vast majority of the time. But you don't want client portfolios 100% at risk when market action is uncertain or negative. Any time you reduce the impact of market downturns, you have additional leverage when the market turns back up. That makes a big difference over time," Jacobs said.
"I spent considerable time developing the strategy, incorporating the insights of legendary tactical analysts, including Marty Zweig, Ned Davis, Gerald Appel, Sherman McClellan and others, to create a tactical, rules-based investing approach designed to optimize the risk-adjusted performance of client assets," he said. "We are not trying to hit home runs, and especially not to strike out. Classic is structured to keep the client's portfolio on the right side of major trends; preserve capital during bear markets and avoid the BIG mistake! Not every move will be profitable, but over full market cycles, the strategy has proven very effective."
NAAIM's Active Investing Strategy Competition was launched in 2013 to provide NAAIM members with an opportunity to showcase their active investment strategies, models and signals and provide the membership with new ideas in asset management and opportunities to develop beneficial relationships with other active managers.  The competition features a preliminary qualifying round, followed by the final competition in conjunction with the NAAIM Uncommon Knowledge annual conference. The audience is open to all conference registrants. Competing investment managers have up to seven minutes to present their investment approach and results, followed by questions from the panel of judges and audience members.  The combined ratings of the judges determine the best strategy.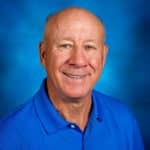 About Jerry Jacobs CFS, CFP®
Jerry Jacobs has spent 51 years in the financial industry. He was a retail and institutional broker with Merrill Lynch from 1971-1977 and Paine Webber 1977 – 1994, successfully completing the Elite Portfolio Management Program through Richard Schilffarth & Associates, Ltd.  Jacobs began managing assets on a discretionary basis in 1986 and founded Atlas Capital Management in 1993 to be able to implement his portfolio strategy as a fee-based program. A graduate of Ball State University, he currently serves as President and Chief Compliance officer of Atlas Capital Management Corp, based in Ft. Wayne, Indiana. For more information visit www.atlascapitalmanagement.com/.
About the National Association of Investment Managers
The National Association of Active Investment Managers (NAAIM) is a non-profit trade group of nearly 130 registered investment advisor firms that collectively manage more than $15 billion in assets. NAAIM member firms provide active money management services to their clients to produce favorable risk-adjusted returns as an alternative to passive, buy-and-hold investment strategies. In addition to its Active Investing Strategy Competition, NAAIM publishes the weekly NAAIM Exposure Index, sponsors the annual Uncommon Knowledge conference along with smaller conferences and meetings on topics of interest to its membership and holds an annual white paper competition designed to advance the active investing knowledge base. For more information, visit www.naaim.org