Understanding The Current Earnings Game
By: David Moenning, Heritage Capital Research
Published: 11.12.18
When stocks enter a corrective phase, the main question investors tend to ask themselves is, has anything changed from a macro point of view?
One of the problems with trying to answer this question is that corrections generally are born out of a period of high confidence and/or complacency. A period where everyone knows the bullish case. A period where everyone is confident about the outlook. And a period where everyone "knows" what is going to happen next. Well, until something changes, of course.
The point is that when you are comfortable with your premise and everyone agrees with your view, seeing a change in the environment can be tough. Things are going well. Nobody wants anything to change. So, first understanding and then accepting the facts that (a) something is changing and (b) you may need to make adjustments to your portfolio strategy, can be challenging.
From my seat, we are seeing this type of scenario play out in the here and now. For example, one of the key fundamental drivers of the current bull market cycle has been robust corporate earnings. Make no mistake about it; earnings have been strong and have been consistently coming in above expectations. In fact, analysts project that EPS (earnings per share) growth for the S&P 500 will come in at 26.4% for calendar year 2018. Impressive.
Yet during the current earnings season, stocks have generally not been rewarded for their earnings/revenue "beats." Companies report earnings and revenues that are above expectations, management says good things about the business, and the stock proceeds to decline. What gives?

Courtesy: Ned Davis Research
Bulls On Shaky Ground
By: Paul Schatz, Heritage Capital LLC
Published: 11.12.18
After a fast and furious rally by the bulls, we saw a little change on Friday as "too far, too fast" became my theme. I thought the best case would be for a pause to refresh or some backing and filling. That appears to be the case as the new week begins. I am very keenly watching for the market's reaction if and when it gives back all of last Wednesday's huge, post-election gains. That should speak volumes about the next week or so. On the Dow, that's roughly 25,600 and 2750 on the S&P 500.
Not a single thing has changed in my thinking that an immediate return to new highs could very well spell the end of the 10-year bull market. That remains in play, however, as I have been discussing, the odds do not favor that behavior. Rather, stocks are "supposed" to see another decline to build a better launch pad for the next rally to 27,000.
Where is leadership, you ask?
Weekly Update: The NAAIM Indicator Wall
The NAAIM Indicator Wall provides a weekly update on a robust array of stock market indicators. The "wall" includes readings and explanations of indicators and/or models in the areas of price/trend, momentum, key price levels, overbought/sold readings, sentiment, monetary, economic, inflation, and market cycles.
Indicators Updated: 11.10.18
Below is a group of market models focusing on the internal momentum. These models are designed to tell us whether there is any "oomph" behind the current trend.
RGB Perspectives
By: Rob Bernstein, RGB Capital Group
Published: 11.5.18
The stock market remains in a downtrend. The recent lows MAY turn out to be the bottom of the recent bout of downside volatility but it is too early to make that determination. The market continues to be driven by uncertainty around the midterm elections, trade wars, rising interest rates and concerns over global economic environment. Recent, positive news regarding progress in the trade negotiations with China has helped support the market over the last week.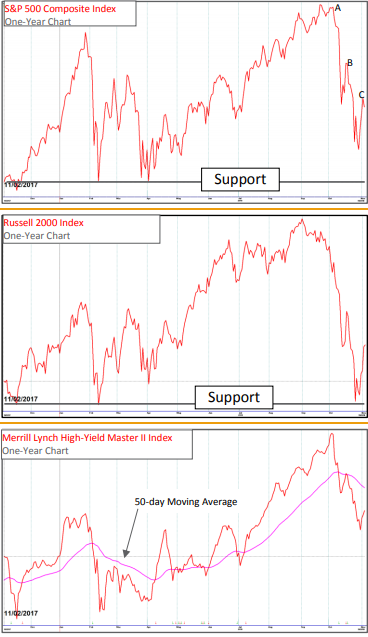 BAM Market Note
By: Sam and Bo Bills Bills Asset Management
Published: 11.9.18
The markets have staged an impressive rally
over the last 2 weeks and have recovered
about half of the October losses. As I write
this, the S&P is down 1% but well off its lows.
The widely followed index traded down to its
200 day moving average before bouncing. As
mentioned last week there was one unfilled
gap and this week we had another one (see
red circles). It is typical (but not always) that
gaps are filled before a new trend begins. This
week's gap was partially filled today which
leads us to believe that the market will decline
at least enough to completely fill the gap. We
are in much better shape than a couple of
weeks ago but not out of the woods yet.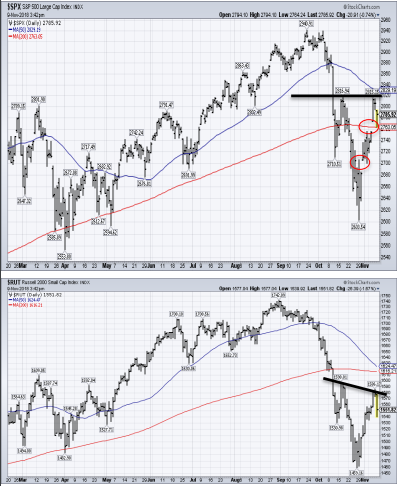 Election Model is Right Again!
By: Paul Schatz, Heritage Capital LLC
Published: 11.7.18
Last night, I flew back from one of the best conferences I have ever been to in Chicago for the National Association of Active Investment Managers. Besides offering my outlook on many asset classes and themes for 2019, I sat through some really great presentations as well as networked with some of my closest industry friends and new acquaintances. So many bright and talented people. Some really good deep dish pizza at Gino's East and tasty craft beer on tap.
On the flight home, in my usual aisle seat in the back without any legroom surrounded by all these folks who flew to the Dallas Cowboys (my team) game in Dallas, I was apparently the only who paid $6 to watch Direct TV on the two hour flight from Chicago. It was election night and I wasn't missing a minute of it, not to mention not being able to open my laptop because the person in front of me reclined her seat and it almost hit me in the mouth.
Every 10 or 15 minutes someone in the back would yell out, "how's it looking?" I would then give then a quick rundown of the earliest races. I toggled back and forth between FOX and MSNBC to get all views. Boy did that seem like night and day! The interesting part was in between my updates, random people started having political conversations without anyone yelling or name calling.
Someone would turn to their neighbor and ask who they were supporting. I heard everything from "only Democrats" to "anyone Trump likes" to "splitting the vote up". The disagreement was, well, very agreeable and civil. It was really amazing and almost heartening. The discussion, certainly not my Cowboys who have become an embarrassment with no quarterback, no coach and the worst owner in football.
Weekly Update: The NAAIM Member Exposure Index
The NAAIM Exposure Index represents the average exposure to US Equity markets reported by our members.
Link to the NAAIM Exposure Index
Weekly Update: The Emotomy Exposure Index
The Emotomy Exposure Index represents the average daily exposure to equity markets in the investment accounts of Emotomy's clients. This Index provides insight into the actual adjustments investment advisers have made to client accounts over time.