NAAIM Speaks is bi-monthly newsletter containing market insights and analysis from NAAIM member firms. "Speaks" is designed to provide a plethora of market analysis, indicators, some occasional humor, as well as a summary of NAAIM's proprietary Dynamic Asset Allocation Model and Managers Exposure Index. The report is for informational uses only and is not to be construed as investment advice.
Here We Go Again?
By: David Moenning, Heritage Capital Research
Published: 5.13.19
The recent volatility has definitely allowed pundits to sow seeds of fear into the mix by pronouncing that the next big, bad, decline is just around the corner. And with the memories of the market's Q4 frightening market hysterics still fresh, investors can't be blamed for worrying that something ugly is about to happen again.
Yet at this stage of the game, it is important to recognize that trade news alone isn't likely to cause the type of devastation that tends to occur in bear markets. And so far at least, the action doesn't even resemble the near-bear seen at the end of last year. Hedge funds aren't blowing up and causing forced selling. The Fed isn't on the warpath. The economy isn't in bad shape. Inflation isn't a problem. And valuations aren't extraordinary relative to the last twenty years.
But still, should we be worried about the bears making a comeback?
Tariff Tantrum Continues
By: Paul Schatz, Heritage Capital LLC
Published: 5.13.19

The markets' tariff tiff/tantrum is now a full blown tantrum. "I don't want tariffs! I don't want tariffs! I don't want tariffs!" The truth is, as I wrote about before, the markets were setting up to pause, digest or even pullback modestly after the Fed meeting on May 1. They were just looking for that excuse which came in a big way over the past week or so.
This pullback looks like your typical single digit bout of weakness that comes along every year in a bull market. It started from an all-high and the decline has been sharp. That's not how bear markets begin…
The Message From the NAAIM Indicator Wall: Fundamentals In Good Shape
By: National Association of Active Investment Managers
Updated: 5.11.19
The NAAIM Indicator Wall provides a weekly update to a robust array of stock market indicators. The "wall" includes readings and explanations of indicators and/or models in the areas of price/trend, momentum, key price levels, overbought/sold readings, sentiment, monetary, economic, inflation, and market cycles.
This week, we're featuring the Fundamental Factors Board, which is designed to give us a feel for the key external factors that have been known to drive stock prices on a long-term basis..
As you can see from the board, the fundamentals are in pretty good shape. Monetary conditions remain positive. The Economic composite suggests the economy is doing just fine. Earnings remain strong. Inflation is low. And Valuations are relatively neutral. So, as Mr. Leon Cooperman pointed out last week, conditions are not present for a significant top in the stock market.
Note: The Indicator Wall is a benefit provided to NAAIM Members and is password protected. To obtain a temporary password, contact NAAIM at 888-261-0787.
Weighing The Week Ahead: Stalemate?
By: Jeffrey Miller Dash of Insight
Published: 5.11.19
Despite the important economic calendar, I expect a different focus for the week ahead. Economic data has had little market effect since the December-January period. Even then the emphasis was on the Fed, not the economy. Since then we have traversed an earnings season with good results versus expectations with little market effect.
The market has focused on geopolitical issues, particularly trade. The big issues seem to be at a point of stalemate. That leaves us to ponder: Does political and geopolitical stalemate imply the same for financial markets?
Update: The NAAIM Dynamic Allocation Model
Designed to be a value-add benefit to membership, NAAIM offers a Dynamic Asset Allocation Model based on the NAAIM Indicator Wall of indicators and models. The overall objective of the model portfolio is to dynamically adapt to changing market environments and to keep equity exposure in line with current conditions. The model targets a normalized allocation of 60% stocks and 40% Bonds.
Here is this week's model allocation:
The model has been run live on the NAAIM website for several years and has demonstrated the ability to reduce exposure to market risk during negative environments such as those seen in 2015-16 and 2018.
More on the Dynamic Allocation Model and Historical Readings
The NAAIM Dynamic Allocation Model is for illustrative and informational purposes only, and does not in any way represent an endorsement by NAAIM or an investment recommendation.
Make Adjustments As Necessary
By: Rob Bernstein, RGB Capital Group
Published: 4.15.19

Most of the diversified stock indices entered this month in relatively low volatility uptrends and the S&P 500 was even flirting with new all-time highs. Now these indices are in short-term declines as a result of a breakdown in the trade negotiations between the U.S. and China as the U.S. announced an increase in tariffs. The initial market reaction was orderly, with the markets generally selling off in the morning and recovering some of those losses into the close of each day. On Friday, the indices sold off but ended in positive territory. At the end of the week, the indices shown above were down between 2% and 3%. Not terrible given the circumstances.
However, that changed on Monday…
Markets Have Weathered The Storm Pretty Well
By: Sam and Bo Bills Bills Asset Management
Published: 5.10.19
We mentioned last week how quickly things can change and that was certainly the case this week! Despite all the noise and the large intraday moves, it hasn't actually been that bad. At this point, it looks like the market will finish the week down around 2-3% depending on the index you are following. Waking up Monday morning to see the futures down over 500 Dow points after a Trump tariff tweet left many wondering if we were in for a much steeper decline. However, by the end of the day losses were pared. That scenario played out all week as the on again/off again China tariff talk led to increased volatility. At this point, it doesn't appear that any significant progress in the talks were made and, as President Trump promised, big beautiful tariffs were imposed at midnight last night. Absent a break-through in talks, It is likely we will face more tariff tantrums as we go through the summer and fall.
But, all things considered, the markets have weathered the storm pretty well.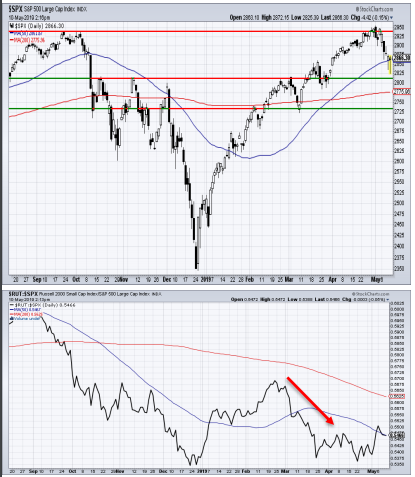 Cash Is A Position
By: Dexter P. Lyons Issachar Fund
Published: 5.13.19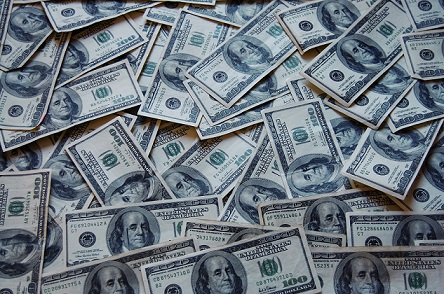 I sold all stock positions last week as the market declined following a Trump Tweet promising to raise tariffs on Chinese imports by Friday if the Chinese did not give into his demands. The market lost about 2% last week. When the market is not rewarding me for taking risk, I prefer to reduce exposure or simply step aside and let the market do what it needs to do.
Imagine doing a planned retreat to hilltop on a battlefield to get a better view of what you are up against. Once we clear our minds and get a vision of where we are headed, then we can plan our attack. In a sense, going to an all cash position allows me to clear my head and refocus on my objective. Once I am convinced the market may reward us for taking risk, I will carefully reenter the market. However, most of the previous stock leaders are not acting like leaders so I will patently wait for the leaders to show me they are ready to "act right."
Our Take: Stock Market Sells Off
By: Craig Thompson, President Asset Solutions
Published: 3.25.19
Trade wars are back in the news and the financial markets are worried about a breakdown in trade negotiations that could result in Trump raising tariffs on Chinese goods by the end of the week. As I mentioned in my May 2019 Newsletter, the stock market is currently in a bullish short-term market environment. It is perfectly normal for the stock market to digest recent gains by consolidating sideways or pulling back to some degree.
That being said, the pullback in the market this week did create some short-term technical damage that does suggest that this pullback could possibly be more severe than the minor ones that have occurred so far this year. Because of this, I did sell some of our weaker stock holdings on Tuesday…
The NAAIM Member Exposure Index: Staying In Tune With Environment
The NAAIM Exposure Index represents the average exposure to US Equity markets as reported by our members in the organization's weekly survey. Note that many NAAIM members are risk managers and tend to reduce exposure to the markets during high risk environments.
Below is last week's exposure reading…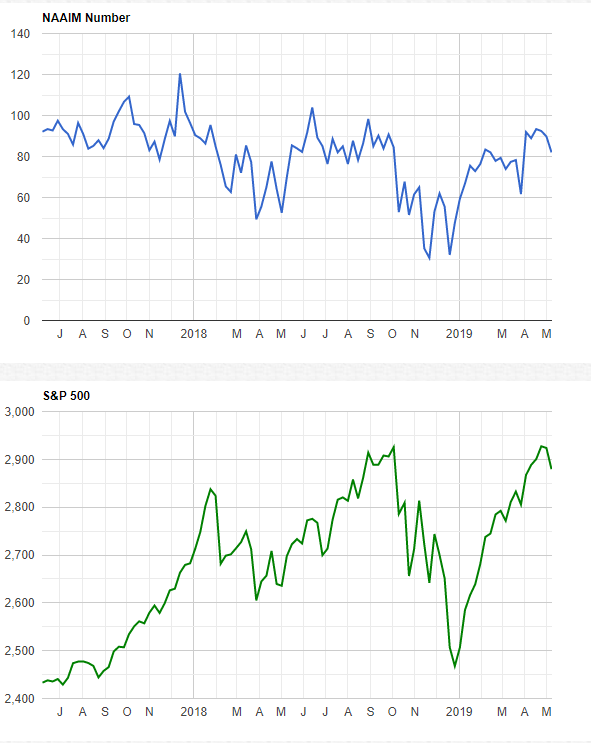 More on the NAAIM Exposure Index
NOT INVESTMENT ADVICE. The analysis and information in this report and on our website is for informational purposes only. No part of the material presented in this report or on our websites is intended as an investment recommendation or investment advice. Neither the information nor any opinion expressed nor any Portfolio constitutes a solicitation to purchase or sell securities or any investment program. The opinions and forecasts expressed are those of the editors and may not actually come to pass. The opinions and viewpoints regarding the future of the markets should not be construed as recommendations of any specific security nor specific investment advice. Investors should always consult an investment professional before making any investment.
Tags: NAAIM, NAAIM Speaks, Stocks market analysis, Stock Market Analysis, Stock market, stock market indicators, David Moenning, Paul Schatz, Jeffrey Miller, Rob Bernstein, Sam Bills, Bo Bills, Dexter Lyons, Craig Thompson