NAAIM Speaks is bi-monthly newsletter containing market insights and analysis from NAAIM member firms. "Speaks" is designed to provide a plethora of market indicators, market analysis, some occasional humor, as well as a summary of NAAIM's proprietary Dynamic Asset Allocation Model and Exposure Index. The report is for informational uses only and is not to be construed as investment advice.
All About Expectations Versus Reality
By: David Moenning, Heritage Capital Research
Published: 4.2.19
One of the first headlines on CNBC.com after Monday's closing bell read: Stocks gain 300 points, but why? The article implied that markets can't seem to decide whether rising rates are good or bad. The author opined that just a couple months ago, stocks would have quaked at the idea of rates rising because the increasing costs of servicing debt would likely choke growth. But now stocks are rallying at the same rates are rising. The obvious question in the article was, what gives?
From my seat, the answer is simple – the author is focusing on the wrong issue.
Now that the Fed has recognized that growth is slowing, the game has changed. The game isn't about the fear of rates rising. Now it's about…
Lyft a Bust? Stocks Soar and Bulls Roar
By: Paul Schatz, Heritage Capital LLC
Published: 4.2.19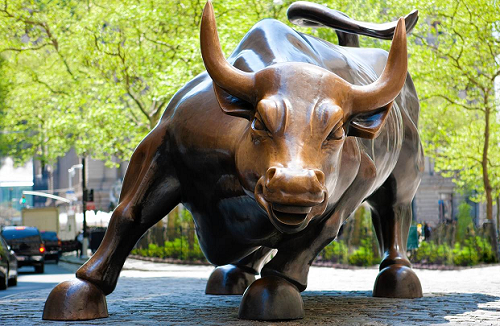 Last week, we ended with the hottest and most anticipated IPO in a very long time. It was one that caused me to dust off my HOT IPO Roadmap and tell you to run for the hills. Lyft came public to all the glory and hoopla of a Ringling Brother circus. And certainly not to my surprise, it fell flat on its face after running above $88. Last I checked, it was sub $70. The pundits were chastising Uber for waiting to be number two. Who's laughing now? I am sure Uber is learning a valuable lesson!
Regarding the stock market, the bull remain long and strong. However, it seems like a whole new group of bears have just started to notice that an epic rally has been taking place since Christmas…
The Message From the NAAIM Indicator Wall: No "Early Warning" Signals Yet
By: National Association of Active Investment Managers
Updated: 2.17.19
The NAAIM Indicator Wall provides a weekly update to a robust array of stock market indicators. The "wall" includes readings and explanations of indicators and/or models in the areas of price/trend, momentum, key price levels, overbought/sold readings, sentiment, monetary, economic, inflation, and market cycles.
This week, we're featuring the Early Warning Indicators Board, which is designed to indicate when the stars become aligned for the market to "go the other way" — for a trade.
Our take is the Early Warning board continues to wave a yellow flag. However, our mean reversion model flashed a buy signal last week and the bears have been unable to get anything going this year. Thus, we will have to continue to give the edge to the bulls at this stage of the game.
Note: The Indicator Wall is a benefit provided to NAAIM Members and is password protected. To obtain a temporary password, contact NAAIM at 888-261-0787.
Are Interest Rates Impacting Your Trades?
By: Jeffrey Miller Dash of Insight
Published: 3.28.19
We recently noted that following the harsh Q4 sell-off, many traders have been trading on tilt so far this year. More specifically, they've been allowing their psychological disposition to override their objective trade setups and decisions. For example, a lot of traders have not participated fully in this year's rebound because they were anticipating another sell-off based on their psychological biases.
Over the last few months, the Fed has shifted from anticipating multiple interest rate hikes in 2019, to the possibility for zero increases but instead a possible rate cut. For perspective, here is the significant change in interest rate expectations per the Chicago Mercantile Exchange's Fed Watch tool, which quantifies the significant interest rate expectation changes.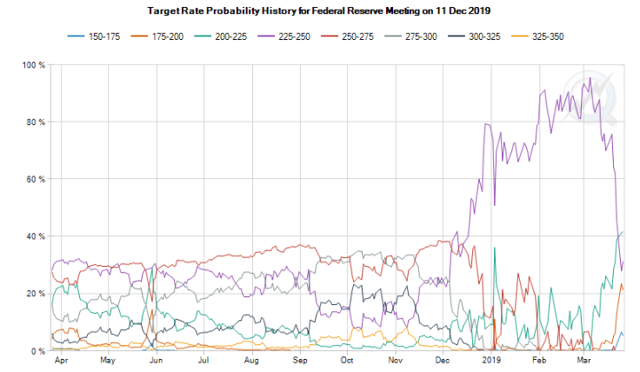 Update: The NAAIM Dynamic Allocation Model
Designed to be a value-add benefit to membership, NAAIM offers a Dynamic Asset Allocation Model based on the NAAIM Indicator Wall of indicators and models. The overall objective of the model portfolio is to dynamically adapt to changing market environments and to keep equity exposure in line with current conditions. The model targets a normalized allocation of 60% stocks and 40% Bonds.
Here is this week's model allocation:
The model has been run live on the NAAIM website for several years and has demonstrated the ability to reduce exposure to market risk during negative environments such as those seen in 2015-16 and 2018.
More on the Dynamic Allocation Model and Historical Readings
The NAAIM Dynamic Allocation Model is for illustrative and informational purposes only, and does not in any way represent an endorsement by NAAIM or an investment recommendation.
Breakout!
By: Rob Bernstein, RGB Capital Group
Published: 4.1.19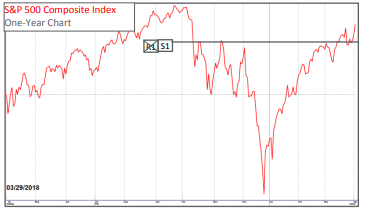 The S&P 500 Composite Index penetrated the October/November highs in early March and then pulled back to that level later in the month. The successful penetration and testing of this level has turned this resistance level into an
area of support and is an indication that the uptrend off the December lows is intact. The next significant test for this large-cap stock index will be the 2018 highs.
But, there's more to the story…
Trying To Figure Out The Next Move
By: Sam and Bo Bills Bills Asset Management
Published: 3.29.19
Since the market close on March 18th, the S&P is virtually unchanged. We have had some back and forth during that time frame but the index continues to hover around the significant resistance marked above. We have had a brief false break-out and a brief false break-down over the last 2 weeks.
Clearly the market is trying to figure out where it goes next. As we have mentioned here several times over the last few weeks, the market movements of both small-cap stocks and US interest rates have been a cause for some concern. While the concern remains, the current week provides some hope that the basing in the S&P will resolve to the upside…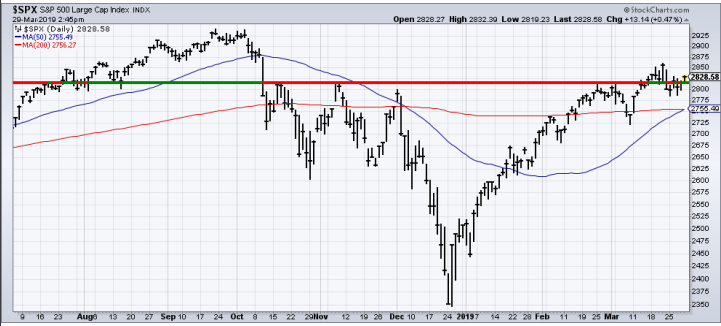 A Shocking Message?
By: Dexter P. Lyons Issachar Fund
Published: 4.1.19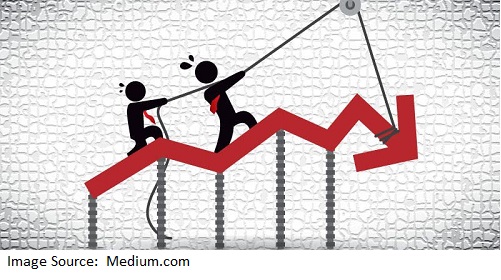 Two Friday's ago, the yield curve inverted and sent a shocking message through the markets that a recession could be on the way. I do not know if I see a recession in the near future, but the banking index was maybe trying to warn us of a slow-down because it was already in a steep decline before the curve inverted. Banks are sensitive to the economic growth because they borrow money on the short end of the curve and lend towards the longer end of the yield curve. If the yield curve inverts (shorter maturity rates are higher than longer rates) banks tend to make fewer loans and therefore less profit. Banks can borrow money from the Fed at the lower Fed Funds rate and buy longer dated treasuries as a way to maintain profitability. However, the Fed tends to frown on such actions as it does not encourage economic growth which banks should be doing…
Video: Follow The Money
By: Ron Rough, CFA Financial Services Advisory
Posted: 3.12.19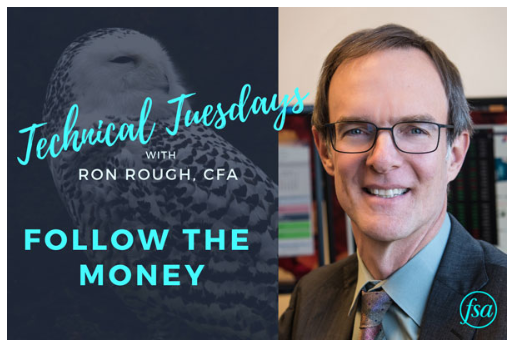 "Follow the Money" is the first principle of FSA's investment approach. In this week's episode of #TechnicalTuesdays, Ron Rough, FSA's Director of Portfolio Management, explains what "Follow the Money" means and how FSA uses the concept to manage our clients' portfolios.
Is The Rally Weakening?
By: Ryan Redfern, Shadowridge Asset Management
Published: 3.31.19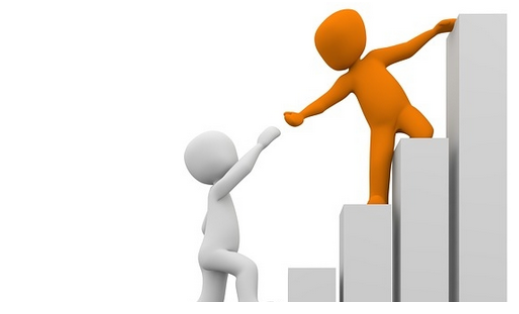 The Q1 rally appears to be weakening. Last month's letter suggested we were at an inflection point that could either take us to new highs, or send us back down to the lows we saw in December. Our thoughts last month leaned slightly towards seeing new highs. Now, after a month of what we view as weakening internals, we might lean slightly towards seeing the market going down a little bit from here.
One factor that is giving us pause at this time is that small-cap stocks are no longer leading like they did (and tend to do) when the market is rising. It was one of the factors that led us to be back in the market in January and February of this year. But that has stopped since March…
The NAAIM Member Exposure Index: Members Getting Nervous
The NAAIM Exposure Index represents the average exposure to US Equity markets as reported by our members in the organization's weekly survey. Note that many NAAIM members are risk managers and tend to reduce exposure to the markets during high risk environments.
For example, the latest reading shows a drop in exposure while the S&P 500 is rising. Thus, it appears that NAAIM members are getting a bit nervous here…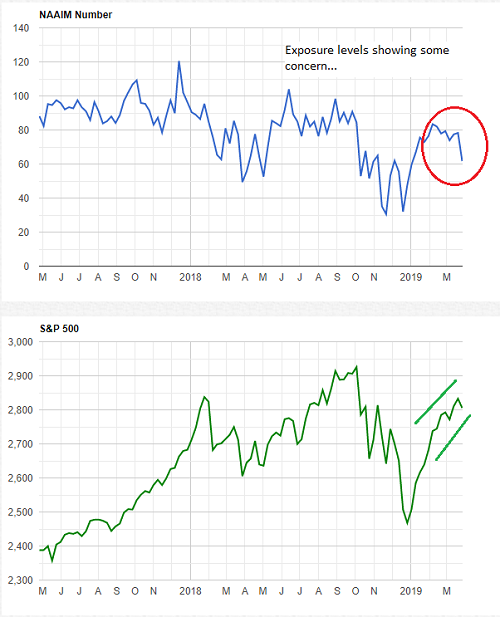 More on the NAAIM Exposure Index
NOT INVESTMENT ADVICE. The analysis and information in this report and on our website is for informational purposes only. No part of the material presented in this report or on our websites is intended as an investment recommendation or investment advice. Neither the information nor any opinion expressed nor any Portfolio constitutes a solicitation to purchase or sell securities or any investment program. The opinions and forecasts expressed are those of the editors and may not actually come to pass. The opinions and viewpoints regarding the future of the markets should not be construed as recommendations of any specific security nor specific investment advice. Investors should always consult an investment professional before making any investment.