NAAIM Speaks is bi-monthly newsletter containing market insights and analysis from NAAIM member firms. "Speaks" is designed to provide a plethora of market analysis, indicators, some occasional humor, as well as a summary of NAAIM's proprietary Dynamic Asset Allocation Model and Managers Exposure Index. The report is for informational uses only and is not to be construed as investment advice.
Bulls Look to Maul Bears as Semis Remain Strong
By: Paul Schatz, Heritage Capital LLC
Published: 9.5.19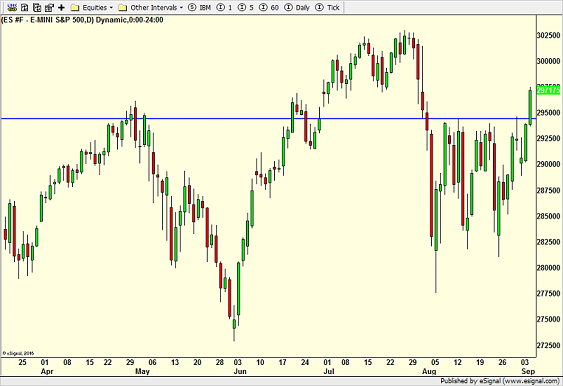 At the end of last week I wrote about the bulls' inability to sustain a breakout above the recent range as prices briefly popped above the highs but reversed to close lower. Given my continued bullish outlook, I wasn't worried and I am still not concerned. This morning, pre-market indications look for the bulls to attempt a full-fledged assault higher and break through the month long trading range as you can see below using the S&P 500 futures.
Is Volatility Your Friend Or Foe?
By: Jeffrey Miller Dash of Insight
Published: 9.4.19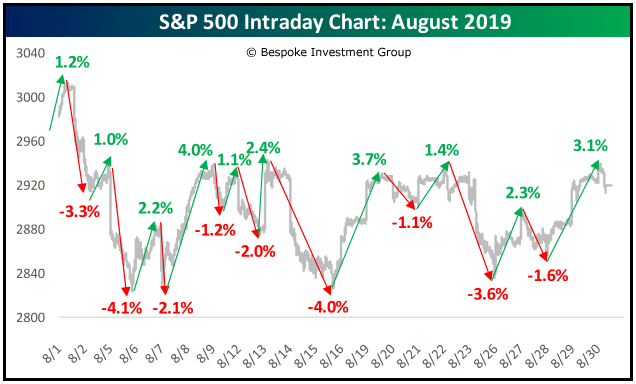 Whenever market volatility kicks up, so does fear and greed. While many investors view market volatility as the enemy, others view it as an opportunity. For example, on one hand, if you're counting on your nest egg to provide you a secure retirement, it does not feel good to see markets selloff thereby eating into your nest egg. On the other hand, some traders view volatility as an opportunity to buy things on sale.
For a little perspective, we present an image of recent market volatility, along with a quote from legendary trader, Charles Kirk….
Much Ado About Nothing?
By: David Moenning, Heritage Capital Research
Published: 9.3.19
To be sure, the action remains volatile as the algos exaggerate moves in both directions. When good news hits the wires, stocks lurch forward and then conversely, when there is bad news, the major indices tend to experience a "whoosh" lower.
But from a longer-term perspective, the end result is, to borrow a phrase, much ado about nothing…
The Message From the NAAIM Indicator Wall: If You Are Looking For Something To Worry About
By: National Association of Active Investment Managers
Updated: 8.5.19
The NAAIM Indicator Wall provides a weekly update to a robust array of stock market indicators. The "wall" includes readings and explanations of indicators and/or models in the areas of price/trend, momentum, key price levels, overbought/sold readings, sentiment, monetary, economic, inflation, and market cycles.
This week, we're featuring the Momentum Board, which is designed to indicate the "state" of the market's fundamental backdrop.
The trade war and the state of the global economy continues be the focal points from a short-term perspective and there is plenty to be concerned about on these fronts. But from a technical perspective, the "state" of our Momentum Board of models/indicators continues to suggest at least a wee bit of caution.
Note: The Indicator Wall is a benefit provided to NAAIM Members and is password protected. To obtain a temporary password, contact NAAIM at 888-261-0787.
Good News From The Chart Of…
By: Rob Bernstein, RGB Capital Group
Published: 9.3.19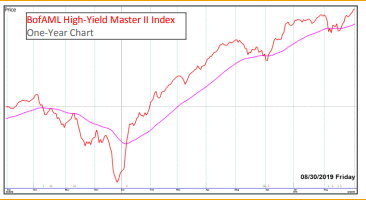 While the stock indices above are indicating some uncertainty in the current environment, the BofAML High-Yield Master II Index (junk bonds) continue to trend up above their rising 50-day moving average. As a risk asset, junk bonds tend to act as a barometer of the overall health of the stock market. As long as junk bonds continue to trend higher, it is a sign that investors are willing to take on risk…
House of Cards
By: Craig Thompson, President Asset Solutions
Published: 9.3.19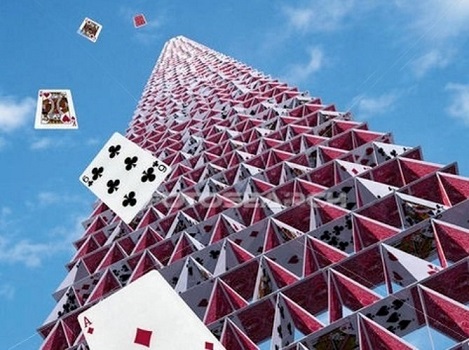 I began to turn bearish the broad stock market June 2019 as noted in our June 24, 2019 Market Update: Stock Market Walking a Tightrope. The stock market is still technically in an uptrend that started in January 2019; however, that doesn't negate the many red flags I am seeing in the market.
The bottom line is that I currently view broad stock market risk to be at a very elevated level and believe it would not take much to push this market into a protracted decline that could last for months.
The NAAIM Dynamic Allocation Model: Overweight Equities for September
Designed to be a value-add benefit to membership, NAAIM offers a Dynamic Asset Allocation Model based on the NAAIM Indicator Wall of indicators and models. The overall objective of the model portfolio is to dynamically adapt to changing market environments and to keep equity exposure in line with current conditions. The model targets a normalized allocation of 60% stocks and 40% Bonds.
Here is this week's model allocation:
The model has been run live on the NAAIM website for several years and has demonstrated the ability to reduce exposure to market risk during negative environments such as those seen in 2015-16 and 2018.
More on the Dynamic Allocation Model and Historical Readings
The NAAIM Dynamic Allocation Model is for illustrative and informational purposes only, and does not in any way represent an endorsement by NAAIM or an investment recommendation.
Market Not Out of the Woods
By: Sam and Bo Bills Bills Asset Management
Published: 8.30.19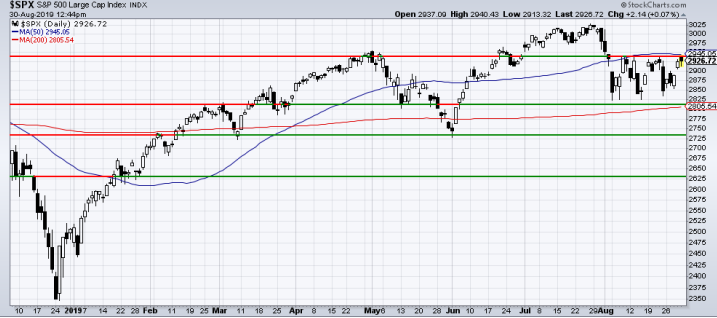 The markets remain resilient. High yield bonds (one of the best indicators of market health) are trending up and show few signs of the turmoil that has gripped much of the market. HYG hit new highs over the last couple of weeks. Small caps (that thorn in the side) continue to disappoint and flash caution. Mixed signals to be sure. Despite all the talk of recession fears, inverted yield curves, tariff threats, panic on CNBC, etc…, the S&P rests a mere 3% below its highs. Despite all the naysayers, the bull market lives on. That said, the headline nature of the market and the resulting volatility is not something to be ignored…
Just Like That, The Environment Changed
By: Ryan C. Redfern ShadowRidge Asset Management
Published: 8.30.19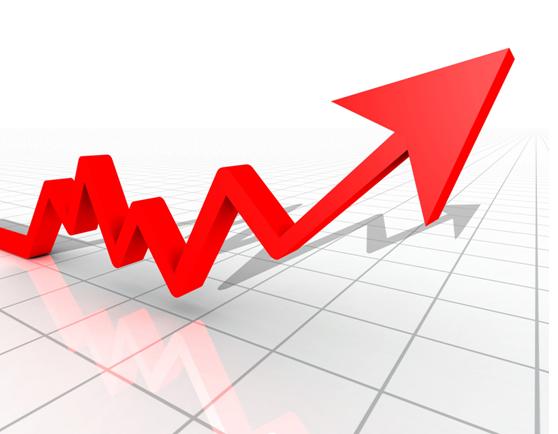 And just like that, the environment changed. The Federal Reserve lowered interest rates by 0.25% since our last market commentary. That was a change from their original plan of raising interest rates not once, but twice before year-end 2019. So now we have a falling rate environment instead of a rising rate one.
Why should you care? There are a few reasons…
The NAAIM Member Exposure Index: Managers Keeping Powder Dry
The NAAIM Exposure Index represents the average exposure to US Equity markets as reported by our members in the organization's weekly survey. Note that many NAAIM members are risk managers and tend to reduce exposure to the markets during high risk environments.
Below is last week's exposure reading. We note that managers appear to be keeping a little dry powder in their portfolios…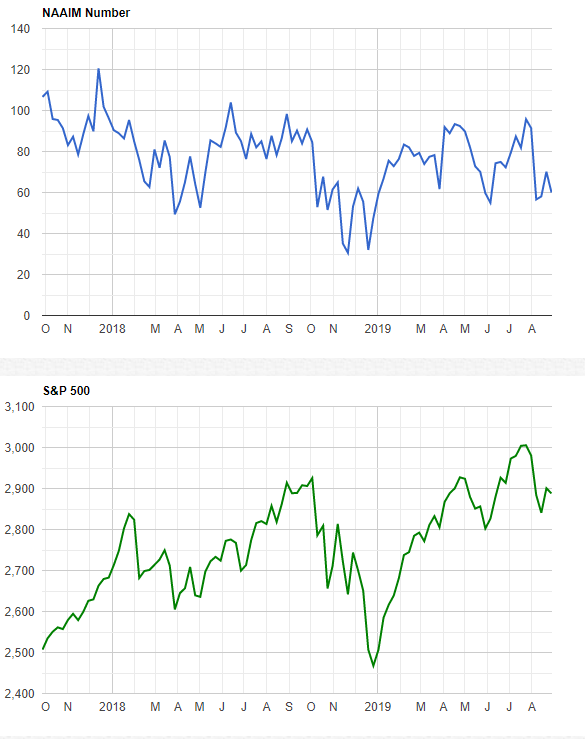 More on the NAAIM Exposure Index
NOT INVESTMENT ADVICE. The analysis and information in this report and on our website is for informational purposes only. No part of the material presented in this report or on our websites is intended as an investment recommendation or investment advice. Neither the information nor any opinion expressed nor any Portfolio constitutes a solicitation to purchase or sell securities or any investment program. The opinions and forecasts expressed are those of the editors and may not actually come to pass. The opinions and viewpoints regarding the future of the markets should not be construed as recommendations of any specific security nor specific investment advice. Investors should always consult an investment professional before making any investment.
Tags: NAAIM, NAAIM Speaks, Stocks market analysis, Stock Market Analysis, Stock market, stock market indicators, David Moenning, Paul Schatz, Jeffrey Miller, Rob Bernstein, Sam Bills, Bo Bills, Ryan Redfern, Craig Thompson, NAAIM Exposure Index, NAAIM Dynamic Allocation Model