NAAIM Speaks is bi-monthly newsletter containing market insights and analysis from NAAIM member firms. "Speaks" is designed to provide a plethora of market analysis, indicators, some occasional humor, as well as a summary of NAAIM's proprietary Dynamic Asset Allocation Model and Managers Exposure Index. The report is for informational uses only and is not to be construed as investment advice.
Bear Camp Can't Be Happy
By: David Moenning, Heritage Capital Research
Published: 11.4.19
Heritage Capital LLC
Published: 11.5.19
Dash of Insight
Published: 11.4.19
Last week, we wrote about avoiding the headlines and instead focusing on how individual stocks and the overall market react to news. In a similar vein, it pays to ignore investor sentiment or even consider it a contrary indicator to investing success. We are conditioned in society to want to buy "bargains" or things on sale. At the same time, perhaps the most bullish thing a market can do is make a new all time high in price. At a new all time high, holders of stock are at a profit and there is less urgency to sell. While intuitively it makes sense that a market at an all time high is bullish, our behavioral biases can make it uncomfortable to invest when the market is "expensive." When sentiment is bearish, typically investors are holding cash on the sidelines which can act as fuel when the fear of missing out overwhelms the original fear that kept them on the sidelines.
The topic is a controversial one for expert traders. A Google search on sentiment trading yields 63 million hits. Quantinsti has a nice summary of sentiment indicators. Some of these are based upon surveys, but others draw upon trading data. One measure described in the article is the put/call ratio…
National Association of Active Investment Managers
Updated: 11.4.19
The NAAIM Indicator Wall provides a weekly update to a robust array of stock market indicators. The "wall" includes readings and explanations of indicators and/or models in the areas of price/trend, momentum, key price levels, overbought/sold readings, sentiment, monetary, economic, inflation, and market cycles.
This week, we're featuring the Early Warning Board, which is designed to suggest when the table is set for the trend to "go the other way" for a while.
View Larger Image
Note: The Indicator Wall is a benefit provided to NAAIM Members and is password protected. To obtain a temporary password, contact NAAIM at 888-261-0787.
Mining the NAAIM Indicator Wall for Real World Applications
Len Fox at Scarecrow Trading, who is a two-time winner of the NAAIM Shark Tank Active Investing Strategy Competition developed a couple of portfolio strategies based on the NAAIM Indicator Wall. Below is an update of the two portfolios Scarecrow runs: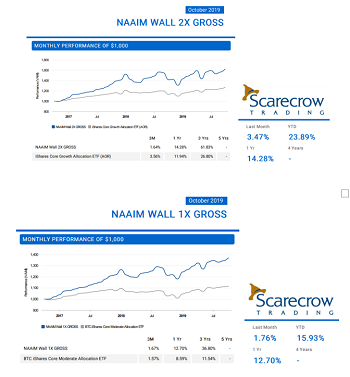 View Larger Image
Feel free to contact Len or his team about the methodology used in these portfolios at (952) 250-7453.
Breaking For The Border
By: Rob Bernstein, RGB Capital Group
Published: 11.4.19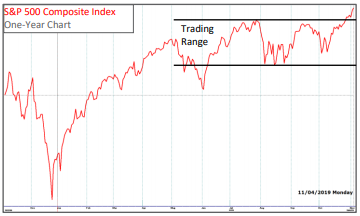 The market is currently healthy and showing very bullish signs.
The S&P 500 Composite Index broke out of its six month
trading range last week with a definitive penetration through
the top of that range. Small-cap stocks (not shown) are near
their 2019 highs and appear to poised for an upside breakout.
Junk bonds (not shown) continue to trend up above their 50-
day moving average and are pointing to a healthy market
environment. It appears that the balance between buyers and
sellers has been resolved in favor of a continuation of the bull
market.
The NAAIM Dynamic Allocation Model
Designed to be a value-add benefit to membership, NAAIM offers a Dynamic Asset Allocation Model based on the NAAIM Indicator Wall of indicators and models. The overall objective of the model portfolio is to dynamically adapt to changing market environments and to keep equity exposure in line with conditions. The model targets a normalized allocation of 60% stocks and 40% Bonds.
Here is this week's model allocation:
View Larger Image
The model has been run live on the NAAIM website for several years and has demonstrated the ability to reduce exposure to market risk during negative environments such as those seen in 2015-16 and 2018.
More on the Dynamic Allocation Model and Historical Readings
The NAAIM Dynamic Allocation Model is for illustrative and informational purposes only, and does not in any way represent an endorsement by NAAIM or an investment recommendation.
A Duck Is Still A Duck
By: Sam and Bo Bills Bills Asset Management
Published: 11.1.19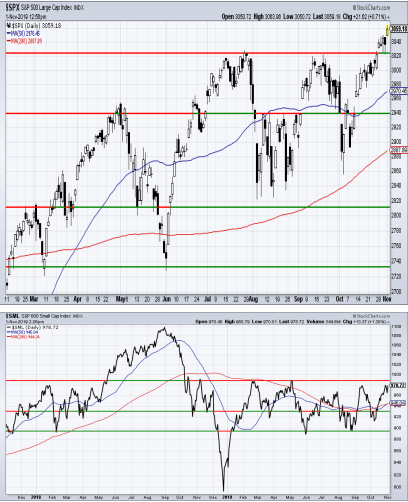 View Larger Image
As expected, the Fed lowered rates by another ¼% on Wednesday. Also as expected, Chairman Powell was asked about the
expansion of the Fed's balance sheet. Fed officials reiterated that the expansion is not quantitative easing but are a "purely technical measure." Call it what you may, but a duck is a duck. The increase in liquidity will and is finding its way into the markets possibly explaining some of the rally over the last few weeks. Adding fuel to the fire this morning, the monthly jobs report came in much stronger than expected. The headline number modestly beat expectations but revisions to prior months added to the excitement. The combination of a Fed that is willing to back stop the market and an economy that is showing some signs of regaining its footing, sent the markets higher this morning and they have not looked back. We'll see how the market closes but…
Watch List Full of Low P/E Stocks
By: Dexter P. Lyons Issachar Fund
Published: 11.4.19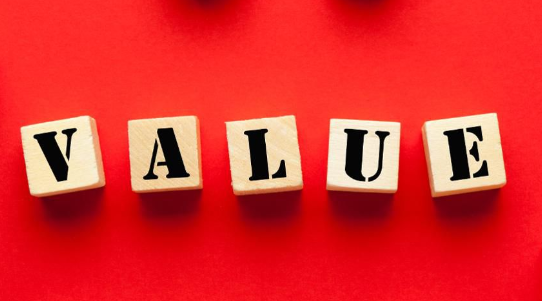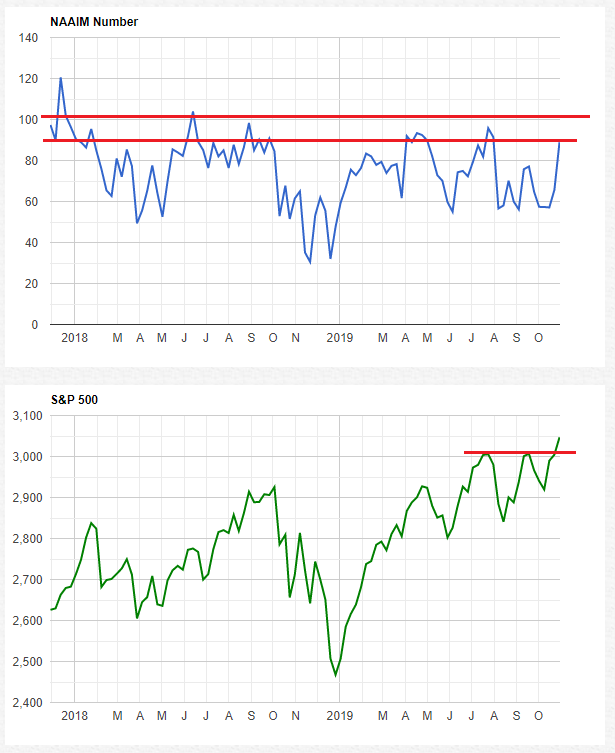 View Larger Image
More on the NAAIM Exposure Index
NOT INVESTMENT ADVICE. The analysis and information in this report and on our website is for informational purposes only. No part of the material presented in this report or on our websites is intended as an investment recommendation or investment advice. Neither the information nor any opinion expressed nor any Portfolio constitutes a solicitation to purchase or sell securities or any investment program. The opinions and forecasts expressed are those of the editors and may not actually come to pass. The opinions and viewpoints regarding the future of the markets should not be construed as recommendations of any specific security nor specific investment advice. Investors should always consult an investment professional before making any investment.
Tags: NAAIM, NAAIM Speaks, Stocks market analysis, Stock Market Analysis, Stock market, stock market indicators, David Moenning, Paul Schatz, Jeffrey Miller, Rob Bernstein, Sam Bills, Bo Bills, Dexter Lyons, NAAIM Exposure Index, NAAIM Dynamic Allocation Model, Len Fox