NAAIM Speaks is bi-monthly newsletter containing market insights and analysis from NAAIM member firms. "Speaks" is designed to provide a plethora of market indicators, market analysis, some occasional humor, as well as a summary of NAAIM's proprietary Dynamic Asset Allocation Model and Exposure Index. The report is for informational uses only and is not to be construed as investment advice.
Are There Reasons To Be Concerned?
By: David Moenning, Heritage Capital Research
Published: 3.18.19
Well it's official. As of Friday's close (a close that was likely influenced by the quad-witching event and a handful of S&P index rebalances), the S&P 500 is now up +20.05% from the 12/24/18 panic low. Wow talk about a joyride to the upside!
Along with the market's surge higher, which, for the record, has NOT experienced the typical "retest" phase, comes a healthy dose of "seller's remorse" (you know, where anyone silly enough to think that December's dance to the downside was anything more than a brief bout of "algos gone wild," is now regretting their decision to manage the risk of the environment), S&P "envy" (be honest, how many advisors out there have taken calls recently about "keeping up with the S&P?"), and a little something called FOMO (fear of missing out). And from my seat, all of the above have combined to produce the relentless march higher.
The headlines touted last week's action (which at +2.9% was the best gain since November) as a resumption of the trend. A breakout. And a reason to celebrate!
Yet at the same time, I do believe there are some reasons to be concerned…
If At First You Don't Succeed…
By: Paul Schatz, Heritage Capital LLC
Published: 3.18.19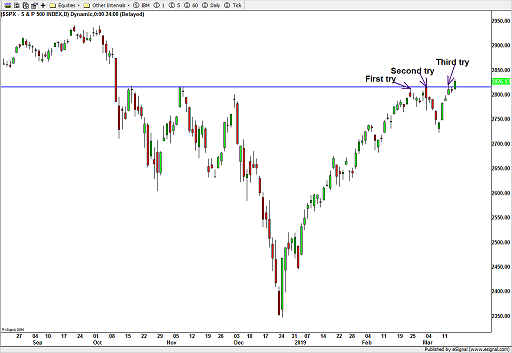 On Wednesday, the bulls tried to break stocks above what pundits are calling the "key" line in the sand. This was the fourth such attempt in the past three weeks. As I mentioned before the first try almost always fails and the second is usually a little more emotional. After that, one of the attempts usually sticks. You can see this on the accompanying chart. Today, is that fourth attempt and we will see where the bulls end up.
Given the run we have had this week, coupled with negative seasonality next week, my initial take is that stocks are not going to run away from here. My sense is that the fourth try will be followed by a fifth one sooner than later but not immediately. However, even if stocks pause here or mildly pullback, I don't think it will be enough to warrant much action. There is too much strength beneath the surface.
For example…
The Message From the NAAIM Indicator Wall: The Fundamentals Remain Supportive
By: National Association of Active Investment Managers
Updated: 3.17.19
The NAAIM Indicator Wall provides a weekly update to a robust array of stock market indicators. The "wall" includes readings and explanations of indicators and/or models in the areas of price/trend, momentum, key price levels, overbought/sold readings, sentiment, monetary, economic, inflation, and market cycles.
This week, we're featuring the Fundamental Factors Board, which is a group of longer-term models designed to tell us the state of the big-picture market drivers including monetary conditions, the economy, inflation, and valuations.
Our take is that all in, the Fundamental Factors board continues to suggest that the backdrop remains constructive. However, should the current "slippage" in the model readings continue or accelerate, we could see stocks begin to discount a further slowdown. But for now, the bulls have enough to justify a continued advance, albeit at a more modest pace.
Note: The Indicator Wall is a benefit provided to NAAIM Members and is password protected. To obtain a temporary password, contact NAAIM at 888-261-0787.
A New Course For The Fed?
By: Jeffrey Miller, Dash of Insight
Published: 3.16.19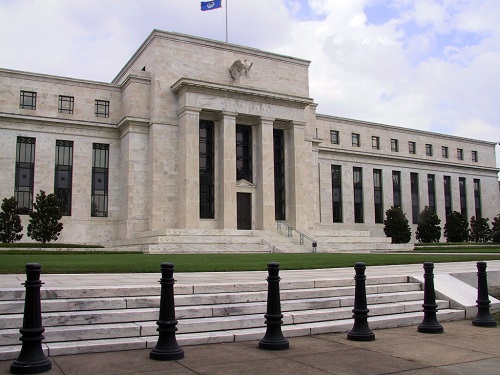 The calendar – light and including a lot of old news – invites publishers and pundits to emphasize fluff stories. The one event of substance is the FOMC meeting, announcement, and press conference. Fed watchers are hoping for more insight than they got on last week's 60 minutes interview. Looking deeply into the statement and Chairman Powell's explanations, pundits will be asking: Will the Fed signal – or even hint – at a possible change in course?
My biggest criticism of the Fed is communication, even in the age of transparency. If they did something as simple as to hire a couple of interns to read financial blogs and watch Rick Santelli, they would have a better sense of market perceptions.
What should you do when confronted with a concern that doesn't really make sense?…
Update: The NAAIM Dynamic Allocation Model

Designed to be a value-add benefit to membership, NAAIM offers a Dynamic Asset Allocation Model based on the NAAIM Indicator Wall of indicators and models. The overall objective of the model portfolio is to dynamically adapt to changing market environments and to keep equity exposure in line with current conditions. The model targets a normalized allocation of 60% stocks and 40% Bonds.
Here is this week's model allocation:
The model has been run live on the NAAIM website for several years and has demonstrated the ability to reduce exposure to market risk during negative environments such as those seen in 2015-16 and 2018.
The NAAIM Dynamic Allocation Model is for illustrative and informational purposes only, and does not in any way represent an endorsement by NAAIM or an investment recommendation.
More on the Dynamic Asset Allocation Model
It's A Bull Market Until Proven Otherwise
By: Rob Bernstein, RGB Capital Group
Published: 3.2.19
The stock market moves in cycles that tend to repeat over time and are generally associated with the overall
business cycle. We believe it is important to stay "in tune" with these major cycles. Thus, each month in our "Market Monitor" publication, we start by reviewing the status stock market's two primary trends: The Secular and Cyclical Market Cycles…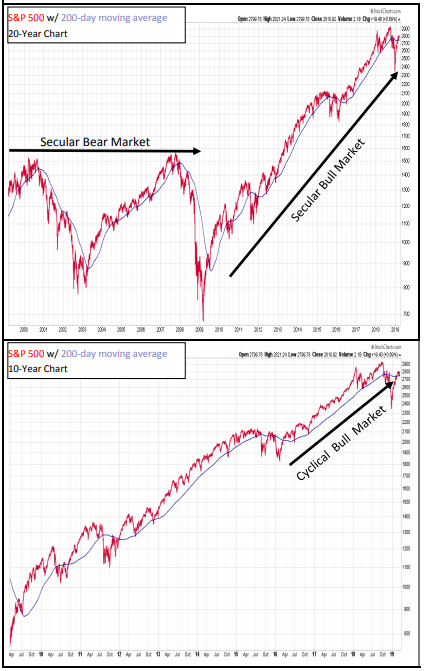 Next, we move on to a review of the shorter-term market cycles, market momentum, fundamentals, credit conditions, and the status of the bond/income environments…
Link to the Latest RGB Perspectives
The Bears Had a Chance, But…
By: Sam and Bo Bills, Bills Asset Management
Published: 3.18.19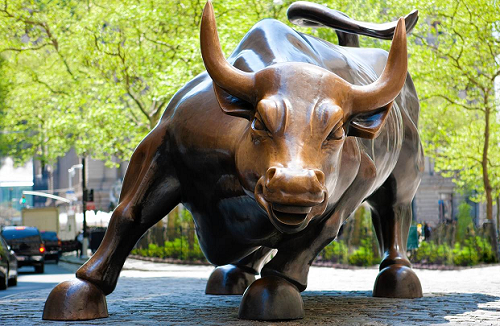 The strength of this market is undeniable and any hint of weakness has been met with buying interest from those investors that have missed out on the rally from the Christmas 2018 lows. Last week was the perfect set-up for some additional selling and profit-taking – and, yet, the market bounced back this week and is making another run at breaking through significant resistance at the October and November 2018 peaks. With each failed attempt, the resistance gains in importance.
Recently, the bears had a chance to gain the upper hand. However, they came up against…
Just Another Buying Opportunity
By: Dexter P. Lyons, Issachar Fund
Published: 3.18.19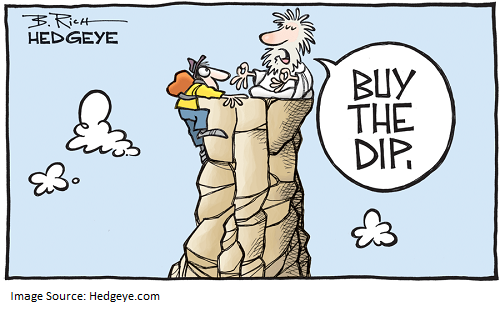 The most recent pullback now looks like it was nothing more than a 'buying opportunity' within an ongoing bull market. The NASDAQ was up 10 straight weeks in a row since the December low, so I was not surprised to see a down week 2-weeks ago. Last week was an up week for the NASDAQ Index and we could be back "off to the races," again. The market likes to climb a "wall of worry" but during a bull market the focus should be to "maintain long exposure" and avoid the temptation to "short" just because we are near all-time highs. The market appears to be in a "giving" mode so we will take what the market gives because one-day the market will not be so generous. I plan to take it one-day at a time and "let it ride" until the trend starts to bend in the end.
We are just surfers riding the wave and our ability to make money is largely due to the size and extent of the wave, and not solely on our own magical abilities. We can control the risk we take, and the market determines the return we receive. My job is to keep it simple and try to stay on the right side of the trend because the "trend is your friend until the end".
Weekly Update: The NAAIM Member Exposure Index
The NAAIM Exposure Index represents the average exposure to US Equity markets as reported by our members in the organization's weekly survey. Note that many NAAIM members are risk managers and tend to reduce exposure to the markets during high risk environments.
The takeaway from this week's Member Exposure reading is that member firms are fairly fully invested (~78% long) but appear to be waiting on a breakout before moving to fully invested exposure levels.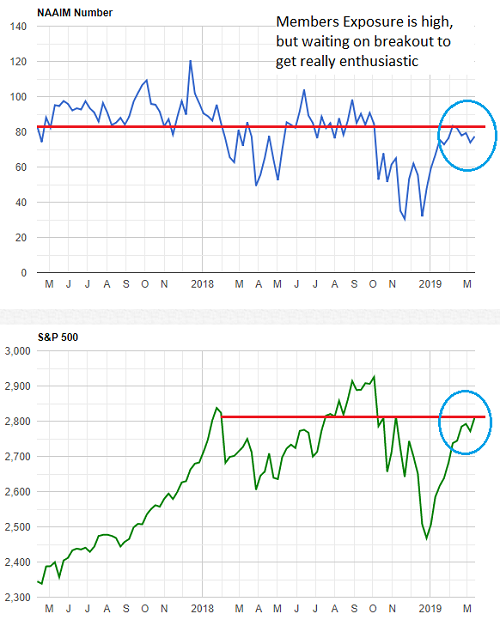 More on the NAAIM Exposure Index
NOT INVESTMENT ADVICE. The analysis and information in this report and on our website is for informational purposes only. No part of the material presented in this report or on our websites is intended as an investment recommendation or investment advice. Neither the information nor any opinion expressed nor any Portfolio constitutes a solicitation to purchase or sell securities or any investment program. The opinions and forecasts expressed are those of the editors and may not actually come to pass. The opinions and viewpoints regarding the future of the markets should not be construed as recommendations of any specific security nor specific investment advice. Investors should always consult an investment professional before making any investment.
Tags: NAAIM, NAAIM Speaks, Stocks market analysis, Stock Market Analysis, Stock market, stock market indicators, David Moenning, Paul Schatz, Jeffrey Miller, Rob Bernstein, Sam Bills, Bo Bills, Dexter Lyons