NAAIM Speaks is bi-monthly newsletter containing market insights and analysis from NAAIM member firms. "Speaks" is designed to provide a plethora of market analysis, indicators, some occasional humor, as well as a summary of NAAIM's proprietary Dynamic Asset Allocation Model and Managers Exposure Index. The report is for informational uses only and is not to be construed as investment advice.
About That "Retest"…
By: David Moenning, Heritage Capital Research
Published: 4.15.19
When markets fall 20% in short order there is usually a pretty good reason. In the most recent case, it was the triumvirate of slowing global growth and dueling fears of policy missteps by both the Fed and the administration that caused traders to hit the sell button early and often. It is also worth noting that the vast majority of the downside debacle occurred in rapid fashion between 12/3 and 12/24 (when the S&P 500 plunged -15.9%). To those keeping track of such things, the move qualified as a "waterfall decline."
Everyone who has been at this game awhile knows that when a market experiences a "waterfall decline," trading tends to follow a familiar pattern in the coming months. As the "crash playbook" spells out, first there is a bounce of the dead cat variety, then a retest of the lows (which can take many forms), a basing period (to make sure the worst is over), and finally, a resumption of the uptrend.
But this time around, the crash playbook turned out to be useless…
Still Bullish. Junk Bonds. And Taxes.
By: Paul Schatz, Heritage Capital LLC
Published: 4.15.19
Stocks have definitely been quiet of late although that's from a bull's perspective from the inside looking out. There has been a very slight drift higher. From a bear's perspective from the outside looking in, it must be painful first watching stocks relentlessly melt up and then continue to grind higher day after day after day. These types of markets wear on anyone holding cash waiting to invest. From my point of view, I have tried to do my best not to screw up my bullish outlook.
While I have written about some recession concerns, the credit markets are not showing any worries. High yield bonds just keep making new highs day after day and week after week. Long before stocks peak and well before the economy peaks, I fully expect the junk bond market to put in a major high. We're not even seeing junk bonds peak yet, so I have to laugh at all those Chicken Littles out there who yell that the U.S. economy has been in recession for months. That's just not the case…..
The Message From the NAAIM Indicator Wall: A Perfect 10.0
By: National Association of Active Investment Managers
Updated: 2.17.19
The NAAIM Indicator Wall provides a weekly update to a robust array of stock market indicators. The "wall" includes readings and explanations of indicators and/or models in the areas of price/trend, momentum, key price levels, overbought/sold readings, sentiment, monetary, economic, inflation, and market cycles.
This week, we're featuring the Price Trend Board, which is designed to give us a feel for the overall health of the current short- and intermediate-term trend models.
The Price Trend and Momentum boards (not shown) have both scored perfect 10.0 for a second week. So, sometimes it is best not to overthink things as the trend is obviously an investor's friend here.
Note: The Indicator Wall is a benefit provided to NAAIM Members and is password protected. To obtain a temporary password, contact NAAIM at 888-261-0787.
What Will Q1 Earnings Reveal About the Economy?
By: Jeffrey Miller Dash of Insight
Published: 4.13.19
Earnings season has so many different angles. It is fertile territory for those on a mission: Finding evidence to support their existing positions. The punditry is free to focus on big beats or misses, revenue gains or shortfalls, or changes in guidance. Honest statements about concerns – trade, foreign exchange – will be blown up in media reports. The reaction of stocks to the objective news varies widely from season to season.
Those on my "reliably bearish" Twitter list (follow me at @dashofinsight) write that earnings expectations are too high because of analyst optimism. They also write that the high "beat rate" is because the bar is set too low. Go figure.
Our leading earnings gurus, whom we will follow carefully in the next few weeks, provide some ideas about what to watch. But first, an interesting "look" at the worries…
Update: The NAAIM Dynamic Allocation Model
Designed to be a value-add benefit to membership, NAAIM offers a Dynamic Asset Allocation Model based on the NAAIM Indicator Wall of indicators and models. The overall objective of the model portfolio is to dynamically adapt to changing market environments and to keep equity exposure in line with current conditions. The model targets a normalized allocation of 60% stocks and 40% Bonds.
Here is this week's model allocation:
The model has been run live on the NAAIM website for several years and has demonstrated the ability to reduce exposure to market risk during negative environments such as those seen in 2015-16 and 2018.
More on the Dynamic Allocation Model and Historical Readings
The NAAIM Dynamic Allocation Model is for illustrative and informational purposes only, and does not in any way represent an endorsement by NAAIM or an investment recommendation.
What About Those Small-Caps?
By: Rob Bernstein, RGB Capital Group
Published: 4.15.19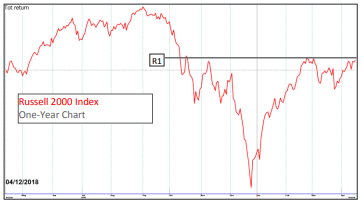 One of the few areas of the market that is underperforming is small-cap stocks. The Russell 2000 Index is still 9% below its 2018 all-time high and is currently struggling to get past the 2019 interim highs (R1). Generally in strong market environments, small-cap stocks tend to outperform large-cap stocks as investors are willing to take on additional risk.
While the underperformance of small-cap stocks has caught my attention, it does not mean the stock market is on the brink of a decline. …
Sometimes Sideways Is A Good Thing
By: Sam and Bo Bills Bills Asset Management
Published: 4.12.19
It was a relatively quiet week on Wall and Broad as the indices were mostly flat heading into today. Positive earnings from JP Morgan and Wells Fargo as well as the announcement of the acquisition of Anadarko Petroleum by Chevron, led to a jump at the opening bell; which mostly held throughout the day. The S&P finished up a little over 0.5% for the week.
The last 2 weeks are marked by very low volatility as the S&P digests some of the recent gains. The sideways market is very constructive and lends itself to a continuation of the rally….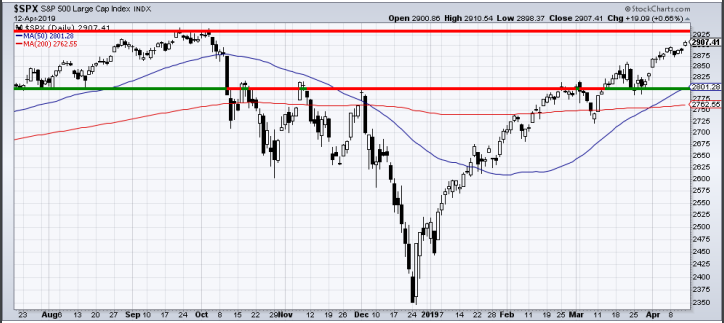 Video: Have An Exit Strategy
By: Ron Rough, CFA Financial Services Advisory
Posted: 4.16.19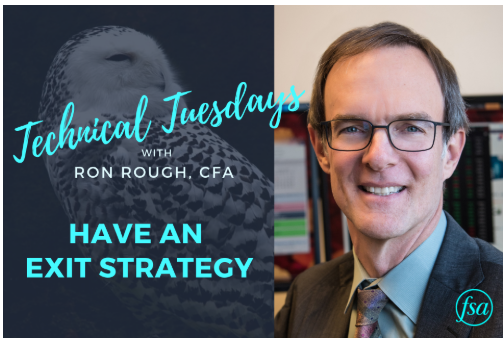 As we discussed last time, "Follow the Money" is the first principle of FSA's investment approach. The second key concept is "Have an Exit Strategy." In this week's episode of #TechnicalTuesdays, Ron Rough, FSA's Director of Portfolio Management, explains how FSA uses an Exit Strategy to help protect client portfolios…
Earnings Roulette
By: Dexter P. Lyons Issachar Fund
Published: 4.15.19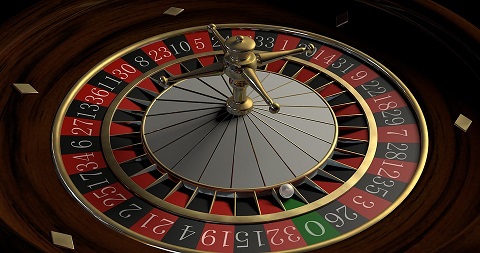 The major indexes are at or approaching significant resistance and I would not be surprised to see a pull-back or consolidation. The trend has been up since the Christmas Eve low and I am expecting the trend to continue with earnings coming in better than expected. I do not like to play "earnings roulette" so I will likely not hold any position into its earnings release date. The risk of an earnings or revenue miss, and a stock dropping is a risk I am not willing to take. However, if I have a "cushion" or a substantial profit in the position, I may consider holding it through its earning release. Either way, I would rather miss an opportunity than lose money…
True Diversification is a Process, Not a Set of Assumptions
By: Terri Spath, CIO Sierra Investment Management
Published: 3.25.19
A simple definition of investment diversification is conveyed in the overused statement, "don't put all your eggs in one basket." The basic buy-and-hold, set-it-and-forget-it style of investing is often premised in a 60% global stock and 40% bond allocation (known as "60/40") and sold as enough diversification to handle whatever market turmoil might come your way over the long-term.
Two major shortcomings spoil this view of investing. First, what is the long-term? From 2000–2010 (the lost decade), the U.S. stock market did not make anyone money. We observed ten years of varying degrees of market volatility and no return. We have found that most investors, ourselves included, aren't interested in leaving 60% of their money in assets that don't add value for a decade.
A second and less obvious flaw of traditional "diversification" is that its basic assumptions are defective. …
The NAAIM Member Exposure Index: Riding The Trend
The NAAIM Exposure Index represents the average exposure to US Equity markets as reported by our members in the organization's weekly survey. Note that many NAAIM members are risk managers and tend to reduce exposure to the markets during high risk environments.
For example, after reducing exposure to risk late in 2018, the latest NAAIM Exposure reading shows members have returned to a nearly fully-invested position and are riding the market's upward trend…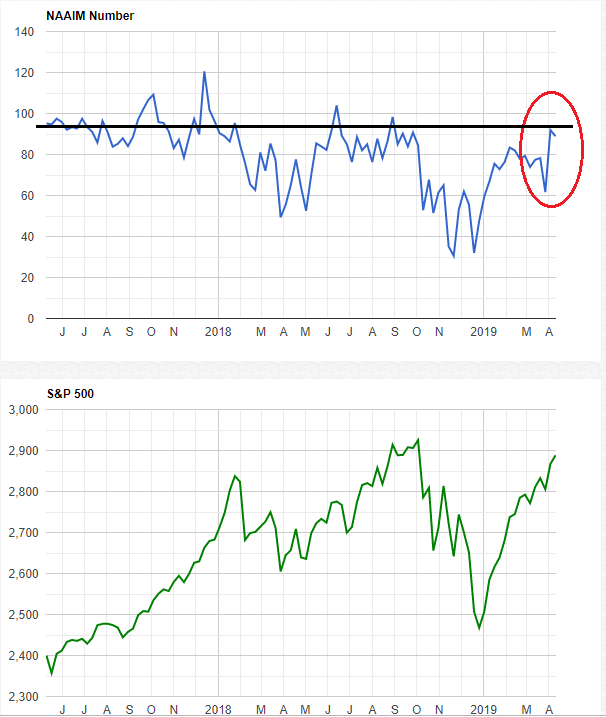 More on the NAAIM Exposure Index
NOT INVESTMENT ADVICE. The analysis and information in this report and on our website is for informational purposes only. No part of the material presented in this report or on our websites is intended as an investment recommendation or investment advice. Neither the information nor any opinion expressed nor any Portfolio constitutes a solicitation to purchase or sell securities or any investment program. The opinions and forecasts expressed are those of the editors and may not actually come to pass. The opinions and viewpoints regarding the future of the markets should not be construed as recommendations of any specific security nor specific investment advice. Investors should always consult an investment professional before making any investment.