NAAIM Shark Tank

NAAIM Shark Tank was created to help NAAIM Members gain exposure to new ideas in asset management and identify potential new business relationships
---
2018 NAAIM Shark Tank  – Accepting Videos and Applications!
NAAIM Shark Tank is alive and biting! Managers wishing to participate are requested to submit video presentations along with an on-line written application to the committee for consideration to present in the finals at Uncommon Knowledge 2018, April 22-25 in Orlando, FL at the Wyndham Grand Orlando Resort Bonnet Creek.
For a complete list of Rules and to Learn more about NAAIM Shark Tank visit:  
NEW PRIZE PACKAGE!  We are excited to announce that the winner of NAAIM's 2018 Shark Tank Competition will be extended one manager pass to attend and participate in 6 one-on-one meetings with allocators at the morning session of Hedge Connection Table Talks on May 2nd at 10 on the Park in NYC.  The winner will also be invited to stay for the afternoon session of Table Talks and the evening networking reception.
Recording options for NAAIM Members: 
Paid NAAIM members are welcome to use NAAIM's GoToWebinar account to record their presentation. Please contact Susan Truesdale to make an appointment. (One recording per strategy – no do overs).
---
About NAAIM Shark Tank:  2018 Finals Competition will be held during NAAIM's 2018 Uncommon Knowledge conference, April 22-25 at the Wyndham Grand Orlando Resort Bonnet Creek in Orlando Florida.   Finalists must be a current NAAIM member (through 2018) and attend the conference to be eligible to participate. NAAIM Shark Tank was created in 2013 to help NAAIM Members gain exposure to new ideas in asset management and identify potential new business relationships.  The first finals competition was held at the Uncommon Knowledge conference in 2014.
OBJECTIVES:  To formalize the networking potential for NAAIM members | To provide a structured venue for NAAIM Members to present strategies/models/signals to other members, managers and asset gatherers | To provide NAAIM members exposure to new ideas in asset management | To provide managers/asset gatherers opportunity to identify potential new relationships
The views expressed by the NAAIM Shark Tank judges panel are theirs alone and do not necessarily reflect the views of The National Association of Active Investment Managers (NAAIM), or any of its members. NAAIM is not responsible for the accuracy of any of the information supplied by the panel. 
---
Congratulations to 2017  NAAIM Shark Tank Winner – Rich Paul of Potomac Advisors for his EVO Strategy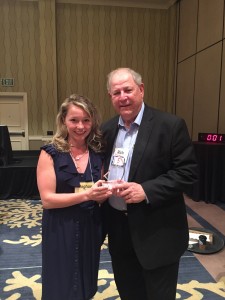 EVO is a mechanical system   that generates buy, sell and short signals based on algorithmic rules using quantitative analysis. EVO's design is based on the idea that when many short-term to long-term trading systems are aggregated, trading signals become stronger as the noise and errors diversify away. With over twenty trading systems in the composite, EVO's nearly 15-year GIPS and Theta Research verified history boasts a CAGR more than double that of the market (16.97%), with half the maximum drawdown (-23.8%) of the S&P 500 Total Return (-51.0%).
---